My Library: Great Books For Everyone
Here are some of my favourite audiobooks.
Click the Links Below to Get Your Books!
I want to share some of my favourite reads with you. I can't recommend them enough. Use the links to get your books and help me with as an affiliate.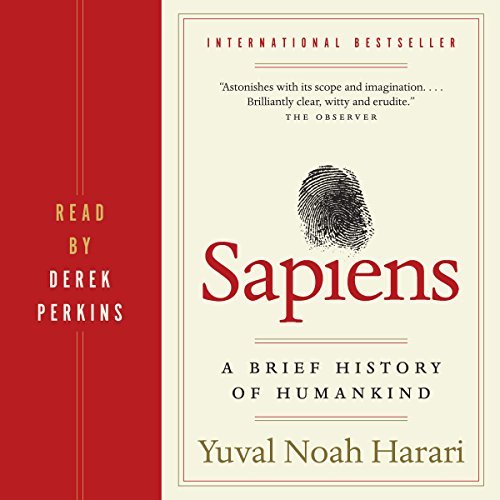 Sapiens: A Brief History of Humankind
Written by: Yuval Harari
Narrated by: Derek Perkins
Length: 15 hrs and 17 mins
Unabridged Audiobook
Release date: 2017-09-13
Language: English
Publisher: Penguin Random House Canada
4.5 out of 5 stars 4.7 (875 ratings)
Publisher's Summary
In Sapiens, Dr. Yuval Noah Harari spans the whole of human history, from the very first humans to walk the earth to the radical – and sometimes devastating – breakthroughs of the cognitive, agricultural, and scientific revolutions. Drawing on insights from biology, anthropology, paleontology, and economics, he explores how the currents of history have shaped our human societies, the animals and plants around us, and even our personalities. Have we become happier as history has unfolded? Can we ever free our behavior from the heritage of our ancestors? And what, if anything, can we do to influence the course of the centuries to come?
Bold, wide-ranging and provocative, Sapiens challenges everything we thought we knew about being human: our thoughts, our actions, our power…and our future.
How to Change Your Mind
Written by: Michael Pollan
Narrated by: Michael Pollan
Length: 13 hrs and 34 mins
Unabridged Audiobook
Release date: 2018-05-15
Language: English
Publisher: Penguin Audio
5 out of 5 stars 4.8 (60 ratings)
Publisher's Summary:
The number one New York Times bestseller
A brilliant and brave investigation by Michael Pollan, author of five New York Times best sellers, into the medical and scientific revolution taking place around psychedelic drugs – and the spellbinding story of his own life-changing psychedelic experiences.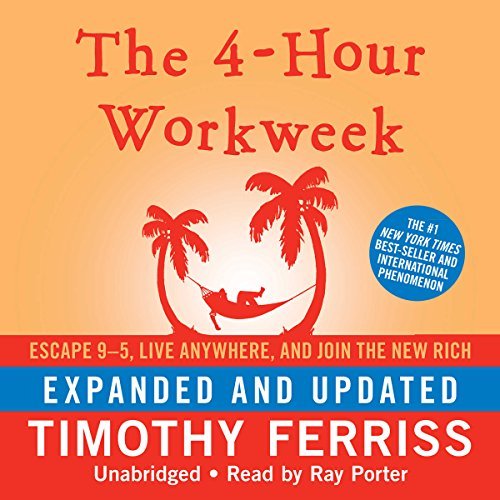 The 4-Hour Workweek: Escape 9-5, Live Anywhere, and Join the New Rich
Written by: Timothy Ferriss
Narrated by: Ray Porter
Length: 13 hrs and 1 min
Unabridged Audiobook
Release date: 2009-12-18
Language: English
Publisher: Blackstone Audio, Inc.
4.5 out of 5 stars 4.6 (130 ratings)
Publisher's Summary
Forget the old concepts of retirement and a deferred life plan. There is no need to wait and every reason not to, especially in unpredictable economic times. For living more and working less, this book is the blueprint.
This expanded edition includes dozens of practical tips and case studies from people who have doubled their income, overcome common sticking points, and reinvented themselves using the original book. Also included are templates for eliminating email and negotiating with bosses and clients, how to apply lifestyle principles in unpredictable economic times, and the latest tools, tricks, and shortcuts for living like a diplomat or millionaire without being either.
12 Rules for Life
An Antidote to Chaos
Written by: Jordan B. Peterson, Norman Doidge MD – foreword
Narrated by: Jordan B. Peterson
Length: 15 hrs and 40 mins
Unabridged Audiobook
Release date: 2018-01-23
Language: English
Publisher: Random House Canada
4.5 out of 5 stars 4.6 (1,459 ratings)
Publisher's Summary
What does everyone in the modern world need to know? Renowned psychologist Jordan B. Peterson's answer to this most difficult of questions uniquely combines the hard-won truths of ancient tradition with the stunning revelations of cutting-edge scientific research.
Humorous, surprising, and informative, Dr. Peterson tells us why skateboarding boys and girls must be left alone, what terrible fate awaits those who criticize too easily, and why you should always pet a cat when you meet one on the street.
What does the nervous system of the lowly lobster have to tell us about standing up straight (with our shoulders back) and about success in life? Why did ancient Egyptians worship the capacity to pay careful attention as the highest of gods? What dreadful paths do people tread when they become resentful, arrogant, and vengeful? Dr. Peterson journeys broadly, discussing discipline, freedom, adventure, and responsibility, distilling the world's wisdom into 12 practical and profound rules for life. 12 Rules for Life shatters the modern commonplaces of science, faith, and human nature while transforming and ennobling the mind and spirit of its listeners.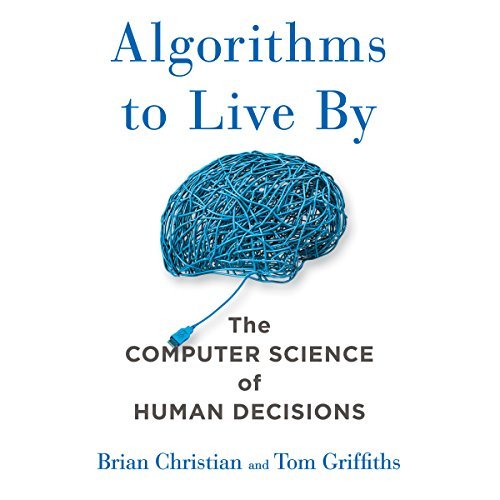 Algorithms to Live By
The Computer Science of Human Decisions
Written by: Brian Christian, Tom Griffiths
Narrated by: Brian Christian
Length: 11 hrs and 50 mins
Unabridged Audiobook
Release date: 2016-04-19
Language: English
Publisher: Brilliance Audio
4.5 out of 5 stars 4.4 (50 ratings)
Publisher's Summary
A fascinating exploration of how computer algorithms can be applied to our everyday lives, helping to solve common decision-making problems and illuminate the workings of the human mind.
All our lives are constrained by limited space and time, limits that give rise to a particular set of problems. What should we do, or leave undone, in a day or a lifetime? How much messiness should we accept? What balance of new activities and familiar favorites is the most fulfilling? These may seem like uniquely human quandaries, but they are not: computers, too, face the same constraints, so computer scientists have been grappling with their version of such problems for decades. And the solutions they've found have much to teach us.
In a dazzlingly interdisciplinary work, acclaimed author Brian Christian and cognitive scientist Tom Griffiths show how the simple, precise algorithms used by computers can also untangle very human questions. They explain how to have better hunches and when to leave things to chance, how to deal with overwhelming choices and how best to connect with others. From finding a spouse to finding a parking spot, from organizing one's inbox to understanding the workings of human memory, Algorithms to Live By transforms the wisdom of computer science into strategies for human living.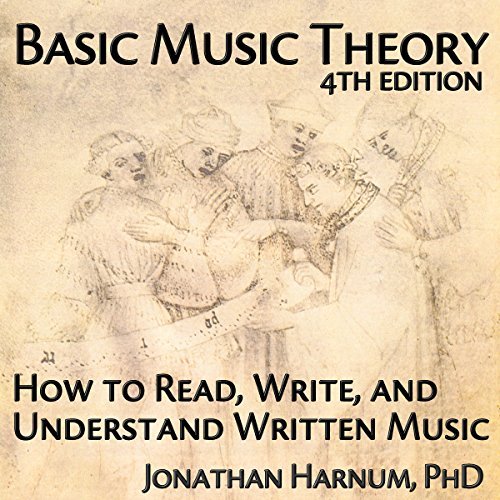 Basic Music Theory, 4th Edition
How to Read, Write, and Understand Written Music
Written by: Jonathan Harnum
Narrated by: Jonathan Harnum
Length: 8 hrs and 3 mins
Unabridged Audiobook
Release date: 2017-04-26
Language: English
Publisher: Sol Ut Press
5 out of 5 stars 5.0 (1 rating)
Publisher's Summary
What do all those lines and squiggles and dots mean? Basic Music Theory takes you through the sometimes confusing world of written music with a clear, concise style that is at times funny and always friendly. The book is written by an experienced music teacher using methods refined over more than 30 years in schools and in his private teaching studio. Lessons are fun, well-paced, and enjoyable. Whether you're a beginner of any age, whether you're an experienced player who wants to bone up on your theory, or whether you teach music and need a fun way to do it, you'll find this book valuable and will refer to it again and again.
How to Make It in the New Music Business
Practical Tips on Building a Loyal Following and Making a Living as a Musician
Written by: Ari Herstand
Narrated by: Ari Herstand, Derek Sivers
Length: 14 hrs and 28 mins
Unabridged Audiobook
Release date: 2016-12-06
Language: English
Publisher: HighBridge, a division of Recorded Books
5 out of 5 stars 4.8 (4 ratings)
Publisher's Summary
In the last decade, no industry has been through as much upheaval and turmoil as the music industry. If you're looking for quick fame and instant success, you're in the wrong field. It's now a democratic DIY business, and any guide to success in these new waters must be told by someone who's already survived them. Giving today's aspiring musicians the practical tools they need to build and maintain a lifelong career, How to Make It in the New Music Business becomes not only a brilliantly compiled tutorial on how to accomplish specific tasks – routing a tour, negotiating contracts, getting paid for Spotify and Pandora plays, or even licensing music to commercials, film, and television – but also a manifesto that encourages musicians to pave their own paths. Iin clear, easy-to-follow chapters, Ari Herstand's necessary and definitive handbook promises to redefine what it means to make it in the brave new world of professional music.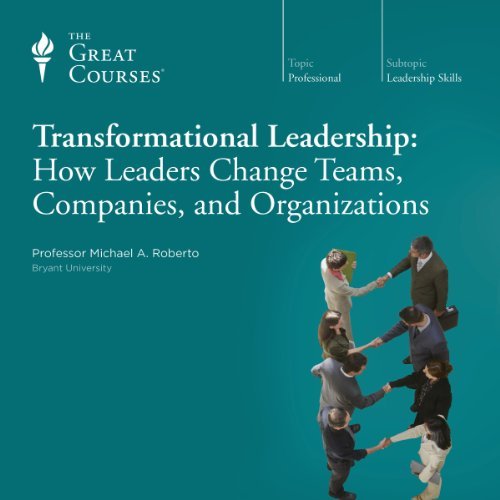 Transformational Leadership: How Leaders Change Teams, Companies, and Organizations
Written by: Michael A. Roberto, The Great Courses
Narrated by: Michael A. Roberto
Series: The Great Courses: Business & Economics
Length: 12 hrs and 37 mins
Lecture
Release date: 2013-07-08
Language: English
Publisher: The Great Courses
5 out of 5 stars 5.0 (3 ratings)
Publisher's Summary
Discover an essential handbook for strategies, concepts, and insights into the dynamics of transformational leadership in these 24 lectures, which take you on an in-depth examination of the leadership behaviors and capabilities essential to creating positive change in teams and organizations. Filled with case studies and lessons from leaders in business, politics, sports, and the military, as well as a range of specific skills and strategies you can put to use in your own career, this lecture series is an authoritative guide to successful leadership.
The Science of Mindfulness
A Research-Based Path to Well-Being
Written by: Ronald Siegel, The Great Courses
Narrated by: Ronald Siegel
Series: The Great Courses: Better Living
Length: 13 hrs and 57 mins
Lecture
Release date: 2014-08-22
Language: English
Publisher: The Great Courses
5 out of 5 stars 5.0 (3 ratings)
Publisher's Summary
Ever noticed that trying to calm down often produces more agitation? That trying to change bad habits can seem impossible? Or that real fulfillment can be elusive, despite living a successful life?
Often, such difficulties stem from the human brain's hardwired tendency to seek pleasure and avoid pain. Modern science demonstrates that this survival mechanism served the needs of our earliest ancestors, but is at the root of many problems that we face today, such as depression, compulsive and addictive behaviors, chronic pain, and stress and anxiety.
For thousands of years, people have used mindfulness practices to deal effectively with a wide range of life challenges. But how exactly does mindfulness work, in scientific terms? How can the human brain, which gives rise to so many of our problems, actually provide a solution?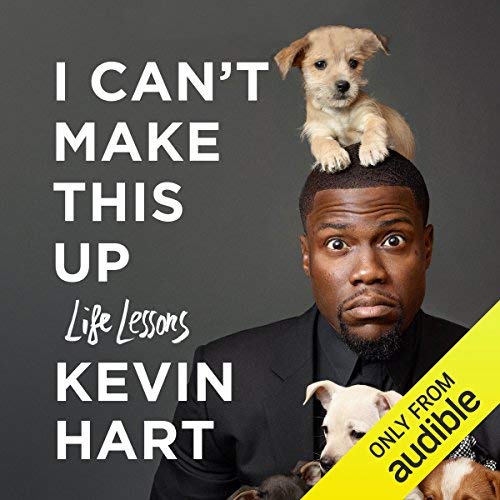 I Can't Make This Up
Life Lessons
Written by: Neil Strauss – contributor, Kevin Hart
Narrated by: Kevin Hart
Length: 11 hrs and 14 mins
Unabridged Audiobook
Release date: 2017-06-06
Language: English
Publisher: Audible Studios
4.5 out of 5 stars 4.7 (483 ratings)
Publisher's Summary
Superstar comedian and Hollywood box-office star Kevin Hart turns his immense talent to the written word by writing some words. Some of those words include: the, a, for, above, and even even. Put them together and you have the funniest, most heartfelt, and most inspirational memoir on survival, success, and the importance of believing in yourself since Old Yeller.
It begins in North Philadelphia. He was born an accident, unwanted by his parents. His father was a drug addict who was in and out of jail. His brother was a crack dealer and petty thief. And his mother was overwhelmingly strict, beating him with belts, frying pans, and his own toys.
The odds, in short, were stacked against our young hero, just like the odds that are stacked against the release of a new book in this era of social media (where Hart has a following of over 100 million, by the way).
But Kevin Hart, like Ernest Hemingway, J.K. Rowling, and Chocolate Droppa before him, was able to defy the odds and turn it around. In his literary debut, he takes the listener on a journey through what his life was, what it is today, and how he's overcome each challenge to become the man he is today.
And that man happens to be the biggest comedian in the world, with tours that sell out football stadiums and films that have collectively grossed over $3.5 billion.
He achieved this not just through hard work, determination, and talent: It was through his unique way of looking at the world. Because just like a book has chapters, Hart sees life as a collection of chapters that each person gets to write for himself or herself.
"Not only do you get to choose how you interpret each chapter, but your interpretation writes the next chapter," he says. "So why not choose the interpretation that serves your life the best?"
Recovery
Freedom from Our Addictions
Written by: Russell Brand
Narrated by: Russell Brand
Length: 7 hrs and 54 mins
Unabridged Audiobook
Release date: 2017-10-03
Language: English
Publisher: Macmillan Audio
4.5 out of 5 stars 4.6 (96 ratings)
Publisher's Summary
This program is read by the author.
A guide to all kinds of addiction from a star who has struggled with heroin, alcohol, sex, fame, food, and eBay, that will help addicts and their loved ones make the first steps into recovery.
"This manual for self-realization comes not from a mountain but from the mud…. My qualification is not that I am better than you but I am worse." (Russell Brand)
With a rare mix of honesty, humor, and compassion, comedian and movie star Russell Brand mines his own wild story and shares the advice and wisdom he has gained through his 14 years of recovery. Brand speaks to those suffering along the full spectrum of addiction – from drugs, alcohol, caffeine, and sugar addictions to addictions to work, stress, bad relationships, digital media, and fame. Brand understands that addiction can take many shapes and sizes and how the process of staying clean, sane, and unhooked is a daily activity. He believes that the question is not "why are you addicted?" but "what pain is your addiction masking? Why are you running – into the wrong job, the wrong life, the wrong person's arms?"
Russell has been in all the 12-step fellowships going, he's started his own men's group, he's a therapy regular and a practiced yogi – and while he's worked on this material as part of his comedy and previous best sellers, he's never before shared the tools that really took him out of it, that keep him clean and clear. Here he provides not only a recovery plan but an attempt to make sense of the ailing world.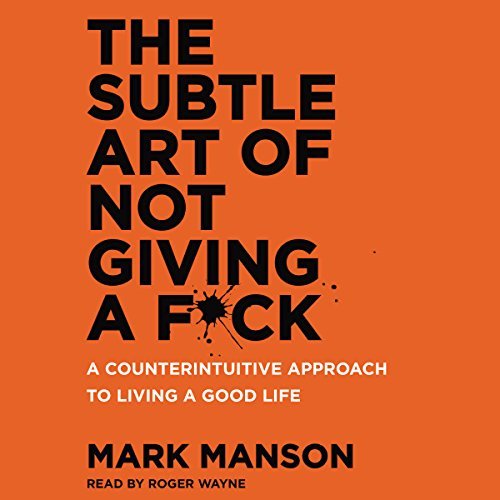 The Subtle Art of Not Giving a F*ck
A Counterintuitive Approach to Living a Good Life
Written by: Mark Manson
Narrated by: Roger Wayne
Length: 5 hrs and 17 mins
Unabridged Audiobook
Release date: 2016-09-13
Language: English
Publisher: HarperAudio
4.5 out of 5 stars 4.5 (2,295 ratings)
Publisher's Summary
In this generation-defining self-help guide, a superstar blogger cuts through the crap to show us how to stop trying to be positive all the time so that we can truly become better, happier people.
For decades we've been told that positive thinking is the key to a happy, rich life. "F*ck positivity," Mark Manson says. "Let's be honest, shit is f*cked, and we have to live with it." In his wildly popular Internet blog, Manson doesn't sugarcoat or equivocate. He tells it like it is – a dose of raw, refreshing, honest truth that is sorely lacking today. The Subtle Art of Not Giving a F*ck is his antidote to the coddling, let's-all-feel-good mind-set that has infected modern society and spoiled a generation, rewarding them with gold medals just for showing up.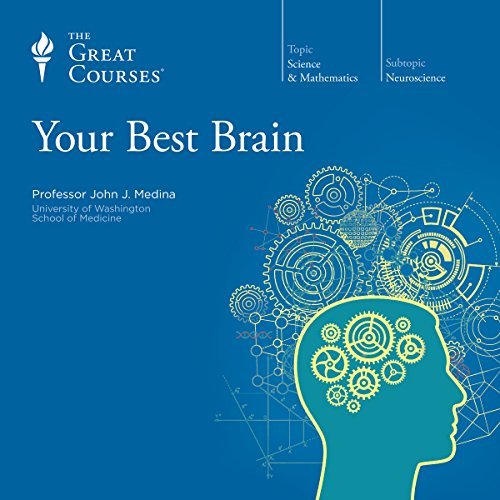 Your Best Brain: The Science of Brain Improvement
Written by: John Medina, The Great Courses
Narrated by: John Medina
Series: The Great Courses: Psychology
Length: 12 hrs and 39 mins
Lecture
Release date: 2014-11-14
Language: English
Publisher: The Great Courses
4.5 out of 5 stars 4.5 (17 ratings)
Publisher's Summary
Inside your head sits the most complex object in the known universe – the human brain. This amazing organ has unique powers to make predictions about the future, form relationships with other people, adapt to rapidly changing circumstances, and so much more. We all have a basic conception of how our brains function, but when did you last dive into the fascinating world of neuroscience to truly understand the inner workings of your mind?
For decades, the field of neuroscience has been in a near-constant state of disruptive transformation, as we continually learn more about our incredible brains. Thanks to rapid advances in technology and in our understanding of the brain, today's neuroscience research goes far beyond trying to understand how the brain works, and into the search for proven ways to optimize brain performance. In Your Best Brain, Professor John J. Medina – an award-winning scientist, New York Times best-selling author, and leading advocate for brain research – delivers 24 exciting lectures that probe the origins of consciousness, memory, emotion, attention, intelligence, and beyond. He focuses on five key areas of study in neuroscience: the brain's physical structure and function, and how it enabled us to become the planet's apex predator; the ways in which the brain processes information, and how that relates to intelligence; the intricacies of emotions and socialization, and how empathy is a vital survival mechanism; how our brains develop and change throughout our lifetimes; and how we can best use and expand our cerebral processing performance. After gaining a thorough understanding of the science behind your best brain, you'll learn scientifically proven methods for improving your memory, boosting your creativity, and keeping your mind sharp for years to come.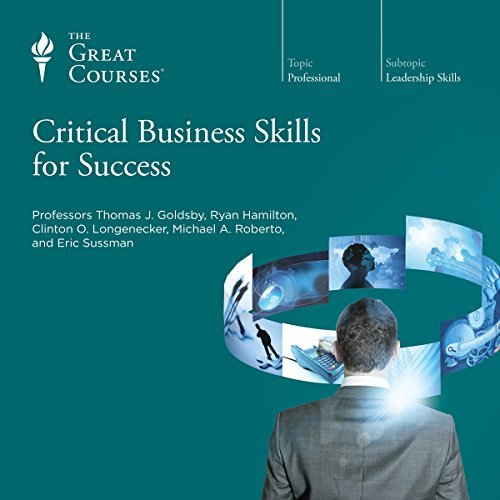 Critical Business Skills for Success
Written by: The Great Courses, Clinton O. Longenecker, Eric Sussman, Michael A. Roberto, Ryan HamiltonNarrated by: Clinton O. Longenecker, Eric Sussman, Michael A. Roberto, Ryan Hamilton
Series: The Great Courses: Professional
Length: 31 hrs and 23 mins
Lecture
Release date: 2015-04-08
Language: English
Publisher: The Great Courses
5 out of 5 stars 4.8 (10 ratings)
Publisher's Summary
What does it take to reach success in business – the kind of success that lasts? How do you set yourself apart from competitors or venture out into different markets? What does it take to develop streamlined processes, become a stronger team leader, and work your way up the corporate ladder?
It all comes down to a solid grasp of the fundamentals of business taught to MBA students in many of the world's most prestigious business schools. This fascinating 60-lecture course is designed to give you just that kind of comprehensive, accessible introduction. Here in one place is an authoritative guide to the five key disciplines that everyone, entry-level employees and CEOs alike, needs to master in order to reap rewards in today's complex 21st-century marketplace.
Bringing together five prestigious and renowned business professors, each 12-lecture part is a detailed look at a particular skill: strategy, operations, finance and accounting, organizational behavior, and marketing. In exploring each skill, you'll learn about everything from key terms and methodologies to research-backed strategies and case studies involving some of the world's most influential companies. You'll come away with a well-rounded education you can use to more firmly establish your own successful path in the business world. Bringing the MBA experience to you, Critical Business Skills for Success demystifies the secrets of business and provides illuminating, empowering insights that will help you achieve your goals.
Born Standing Up
A Comic's Life
Written by: Steve Martin
Narrated by: Steve Martin
Length: 4 hrs and 3 mins
Unabridged Audiobook
Release date: 2007-11-01
Language: English
Publisher: Simon & Schuster Audio
4.5 out of 5 stars 4.7 (24 ratings)
Publisher's Summary
In the mid-70s, Steve Martin exploded onto the comedy scene. By 1978 he was the biggest concert draw in the history of stand-up. In 1981 he quit forever. Born Standing Up is, in his own words, the story of "why I did stand-up and why I walked away".
At age 10 Martin started his career at Disneyland, selling guidebooks in the newly opened theme park. In the decade that followed, he worked in the Disney magic shop and the Bird Cage Theatre at Knott's Berry Farm, performing his first magic/comedy act a dozen times a week. The story of these years, during which he practiced and honed his craft, is moving and revelatory.
Martin illuminates the sacrifice, discipline, and originality that made him an icon and informs his work to this day. To be this good, to perform so frequently, was isolating and lonely. It took Martin decades to reconnect with his parents and sister, and he tells that story with great tenderness. Martin also paints a portrait of his times: the era of free love and protests against the war in Vietnam, the heady irreverence of The Smothers Brothers Comedy Hour in the late 60s, and the transformative new voice of Saturday Night Live in the 70s.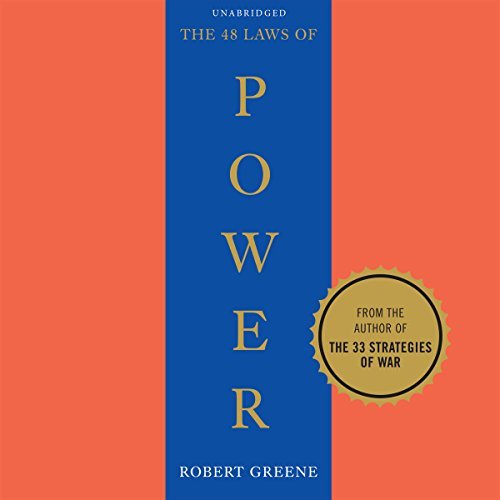 48 Laws of Power
Written by: Robert Greene
Narrated by: Richard Poe
Length: 23 hrs and 6 mins
Unabridged Audiobook
Release date: 2015-05-01
Language: English
Publisher: HighBridge, a Division of Recorded Books
4.5 out of 5 stars 4.7 (98 ratings)
Publisher's Summary
Amoral, cunning, ruthless, and instructive, this piercing work distills 3,000 years of the history of power into 48 well-explicated laws. This bold volume outlines the laws of power in their unvarnished essence, synthesizing the philosophies of Machiavelli, Sun Tzu, Carl von Clausewitz, and other infamous strategists. The 48 Laws of Power will fascinate any listener interested in gaining, observing, or defending against ultimate control.
©2000 Robert Greene and Joost Elffers (P)2015 HighBridge, a division of Recorded Books
What the critics say
It's The Rules for suits…. Machiavelli has a new rival. And Sun-tzu better watch his back." ( New York Magazine)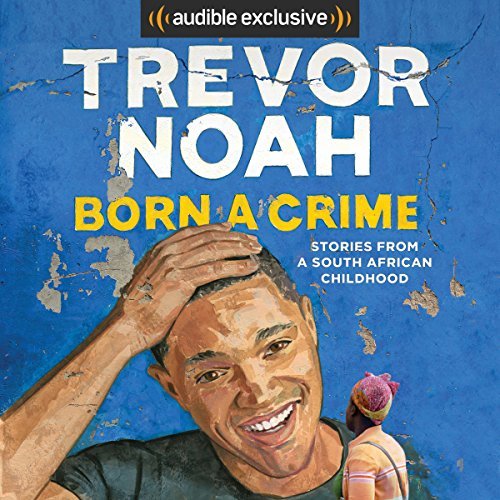 Born a Crime
Stories from a South African Childhood
Written by: Trevor Noah
Narrated by: Trevor Noah
Length: 8 hrs and 50 mins
Unabridged Audiobook
Release date: 2016-11-15
Language: English
Publisher: Audible Studios
5 out of 5 stars 4.9 (1,096 ratings)
Publisher's Summary
Highest-rated new book of 2016 by Audible customers
Winner: Audible's Best of 2016 – Celebrity Memoirs
Trevor Noah, one of the comedy world's fastest-rising stars and host of The Daily Show, tells his wild coming-of-age story during the twilight of apartheid in South Africa and the tumultuous days of freedom that followed. In this Audible Studios production, Noah provides something deeper than traditional memoirists: powerfully funny observations about how farcical political and social systems play out in our lives.
"Nelson Mandela once said, 'If you talk to a man in a language he understands, that goes to his head. If you talk to him in his language, that goes to his heart.' He was so right. When you make the effort to speak someone else's language, even if it's just basic phrases here and there, you are saying to them, 'I understand that you have a culture and identity that exists beyond me. I see you as a human being.'" (Trevor Noah)
The Conversion Code
Capture Internet Leads, Create Quality Appointments, Close More Sales
Written by: Chris Smith
Narrated by: Chris Smith
Length: 6 hrs and 43 mins
Unabridged Audiobook
Release date: 2017-02-03
Language: English
Publisher: Audible Studios
5 out of 5 stars 4.9 (11 ratings)
Publisher's Summary
Capture and close more Internet leads with a new sales script and powerful marketing templates.
The Conversion Code provides a step-by-step blueprint for increasing sales in the modern, Internet-driven era. Today's consumers are savvy, and they have more options than ever before. Capturing their attention and turning it into revenue requires a whole new approach to marketing and sales. This book provides clear guidance toward conquering the new paradigm shift toward online lead generation and inside sales. You'll learn how to capture those invaluable Internet leads, convert them into appointments, and close more deals. Regardless of product or industry, this proven process will increase both the quantity and quality of leads and put your sales figures on the rise.
Traditional sales and marketing advice is becoming less and less relevant as today's consumers are spending much more time online, and salespeople are calling, emailing, and texting leads instead of meeting them in person. This book shows you where to find them, how to engage them, and how to position your company as the ideal solution to their needs.
The Psychedelic Explorer's Guide
Publisher's Summary
Called "America's wisest and most respected authority on psychedelics and their use", James Fadiman has been involved with psychedelic research since the 1960s. In this guide to the immediate and long-term effects of psychedelic use for spiritual (high dose), therapeutic (moderate dose), and problem-solving (low dose and microdose) purposes, Fadiman outlines best practices for safe, sacred entheogenic voyages learned through his more than 40 years of experience – from the benefits of having a sensitive guide during a session (and how to be one) to the importance of the setting and pre-session intention.
Fadiman reviews the newest as well as the neglected research into the psychotherapeutic value of visionary drug use for increased personal awareness and a host of serious medical conditions, including his recent study of the reasons for and results of psychedelic use among hundreds of students and professionals. He reveals new uses for LSD and other psychedelics, including micro-dosing, extremely low doses for improved cognitive functioning and emotional balance. Cautioning that psychedelics are not for everyone, he dispels the myths and misperceptions about psychedelics circulating in textbooks and clinics as well as on the Internet.
PLEASE NOTE: When you purchase this title, the accompanying reference material will be available in your Library section along with the audio.
©2011 James Fadiman (P)2018 Tantor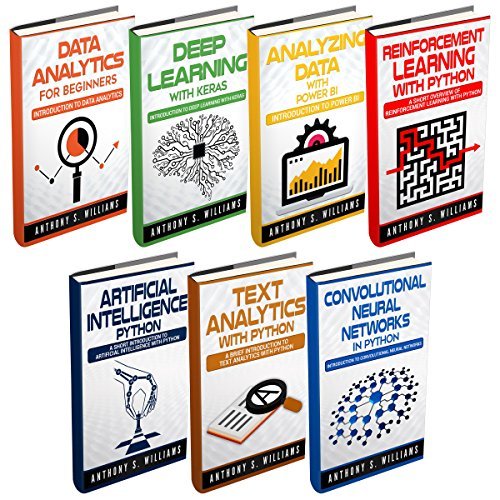 Data Analytics: 7 Manuscripts
Data Analytics Beginners, Deep Learning Keras, Analyzing Data Power BI, Reinforcement Learning, Artificial Intelligence, Text Analytics, Convolutional Neural Networks
Written by: Anthony Williams
Narrated by: William Bahl
Length: 16 hrs and 19 mins
Unabridged Audiobook
Release date: 2017-11-15
Language: English
Publisher: Anthony Williams
Publisher's Summary
Data Analytics – 7-book bundle!
Book 1: Data Analytics for Beginners
Putting data analytics to work
The rise of data analytics
Big data defined
Cluster analysis
And, of course, much more!
Book 2: Deep Learning with Keras
Deep neural network
Neural network elements
Keras models
Sequential model
And, of course, much more!
Book 3: Analyzing Data with Power BI
Basics of data analysis processes
Fundamental data analysis algorithms
Basic of data and text mining, data visualization, and business intelligence
Techniques used for analyzing quantitative data
And, of course, much more!
Book 4: Reinforcement Learning with Python
Types of fundamental machine learning algorithms in comparison to reinforcement learning
Essentials of reinforcement learning process
Marko decision processes and basic parameters
And much, much more….
Book 5: Artificial Intelligence Python
Different artificial intelligence approaches and goals
How to define AI system
Basic AI techniques
And much, much more….
Book 6: Text Analytics with Python
Text analytics process
How to build a corpus and analyze sentiment
Named entity extraction with Groningen meaning bank corpus
And much, much more….
Book 7: Convolutional Neural Networks in Python
Architecture of convolutional neural networks
Solving computer vision tasks using convolutional neural networks
Python and computer vision
And, of course, much more!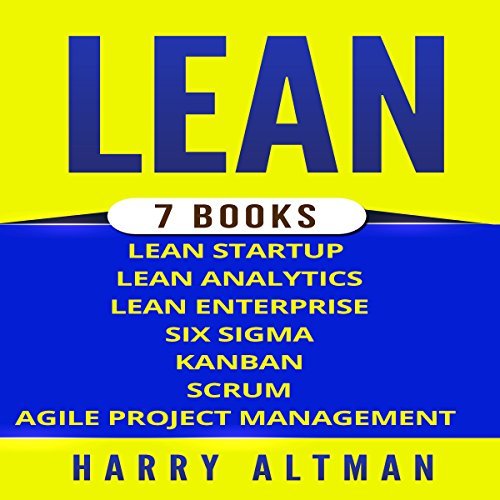 Lean: The Bible: 7 Manuscripts
Lean Startup, Lean Six Sigma, Lean Analytics, Lean Enterprise, Kanban, Scrum, Agile Project Management
Written by: Harry Altman
Narrated by: Bridger Conklin
Length: 10 hrs and 10 mins
Unabridged Audiobook
Release date: 2017-10-30
Language: English
Publisher: Harry Altman
4 out of 5 stars 4.0 (1 rating)
Publisher's Summary
Do you want to become an expert in Lean?
Get this book and follow my step-by-step explanations!
Seven books in one!
Lean Startup
Lean Startup provides a scientific approach to creating and managing startups and gets the desired product to customers' hands faster.
Six Sigma
Lean Six Sigma is a method that provides organizations tools to improve the capability of their business processes. This increase in performance and decrease in process variation lead to defect reduction and improvement in profits, employee morale, and quality of products or services.
Lean Analytics
Lean Analytics opens up the world of collecting and analyzing data to new entrepreneurs, by showing them how to use data as a powerful tool without getting consumed from it to build, launch and grow their startup faster while focusing on the right metrics.
Lean Enterprise
The core idea of Lean Enterprise is to maximize customer value while minimizing waste and resources.
Kanban
Kanban is a visual tool that helps in the management of projects by visualizing workflow, limiting work in process, and creating and improving the flow. This book introduced principles that help people to eliminate waste, amplify learning, and deliver as fast as possible.
Scrum
Scrum is a framework for developing and sustaining complex products.
Agile Project Management
Agile PM empower project managers to adapt to and manage effectively a new kind of innovative product development.
Have Any Recommendations?
Let me know! I hope to expand this library over time with some awesome books. I know you've got some. Give them to me!
Audible
Audible is for the listeners. I love audiobooks because I am so busy with work that I'm often on the go. So, I listen while I'm driving, at the gym, or even doing some more mundane work. Audible is awesome. You pay a monthly subscription but get a credit each month for a new book. If you are interested in expanding your knowledge through audiobooks, sign up with the affiliate link below!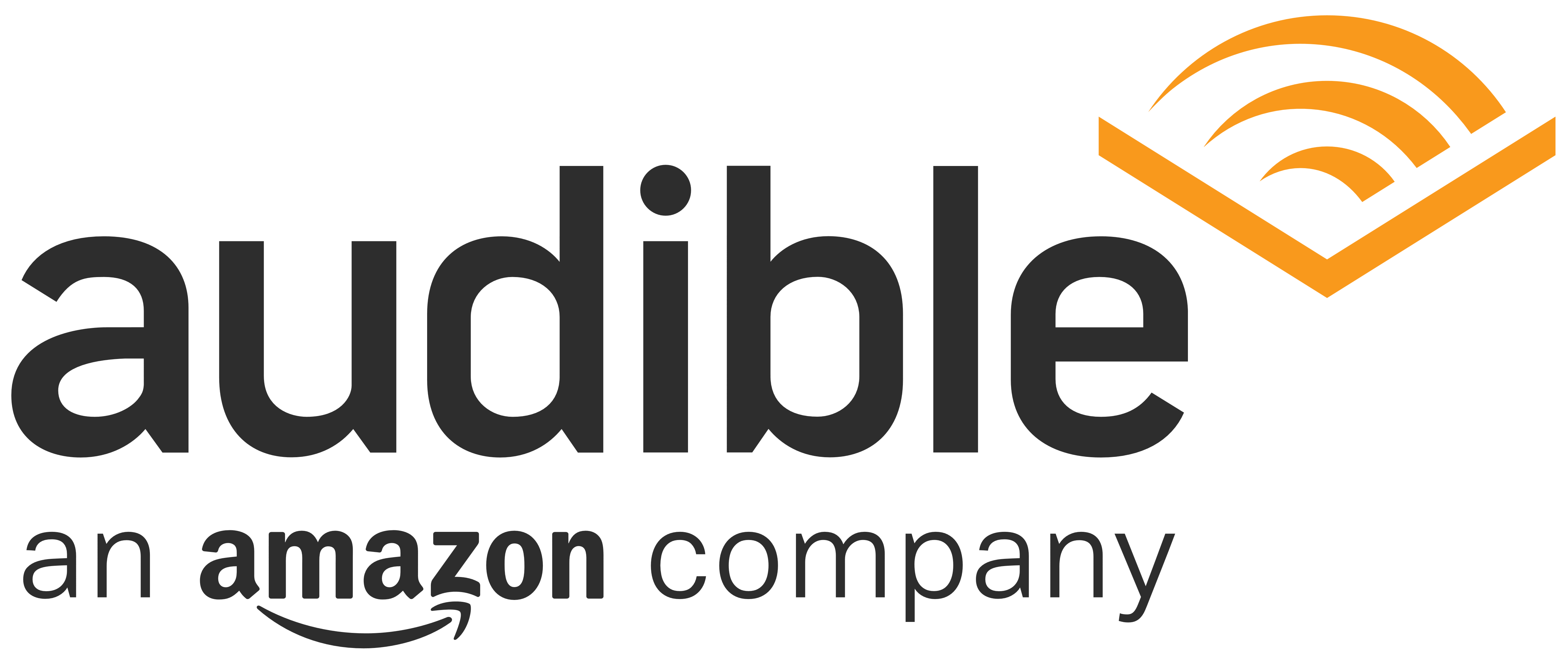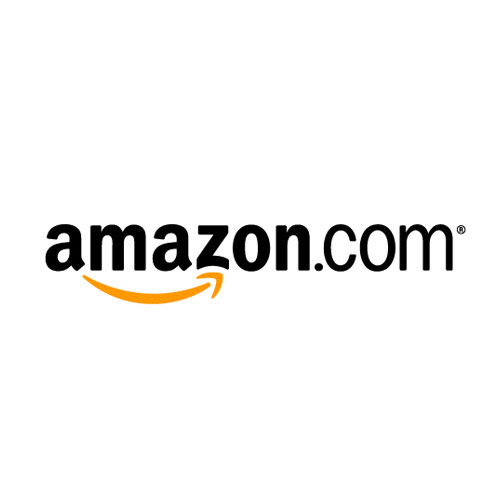 Amazon
Amazon is for the readers. The traditionals. The people who want to feel the book in their hands. The ones who don't want to just listen, they want to immerse themselves in the entire activity of reading. Amazon has a massive library of books for great prices and easy delivery. Use the affiliate link below to start the search for your next book today!
"A reader lives a thousand lives before he dies, said Jojen. The man who never reads lives only one."
– George R.R. Martin, A Dance with Dragons