I started building Speak for many reasons. But, one of the most prominent reasons is because I have a deep belief in the power of journaling for well-being.
When going through some of the most difficult moments of my life, I would turn to paper and pen, Evernote, or a microphone. I'd write about what was going right and what was going wrong. I'd record the feelings and thoughts I was experiencing. I'd share the things I needed to do to feel better.
Over the last 10 years, I have built up piles of paper notebooks and thousands of disparate digital notes and audio and video recordings. This has helped me immensely. But, there was always this looming question: with all this data on everything I'm going through, why can't I get any insights into myself?
Yesterday was an awesome day. We've been working for a long time to make it easy for users to capture and analyze audio, and video. Now, we've started to provide insights back to our users not just on an individual note basis but across all entries.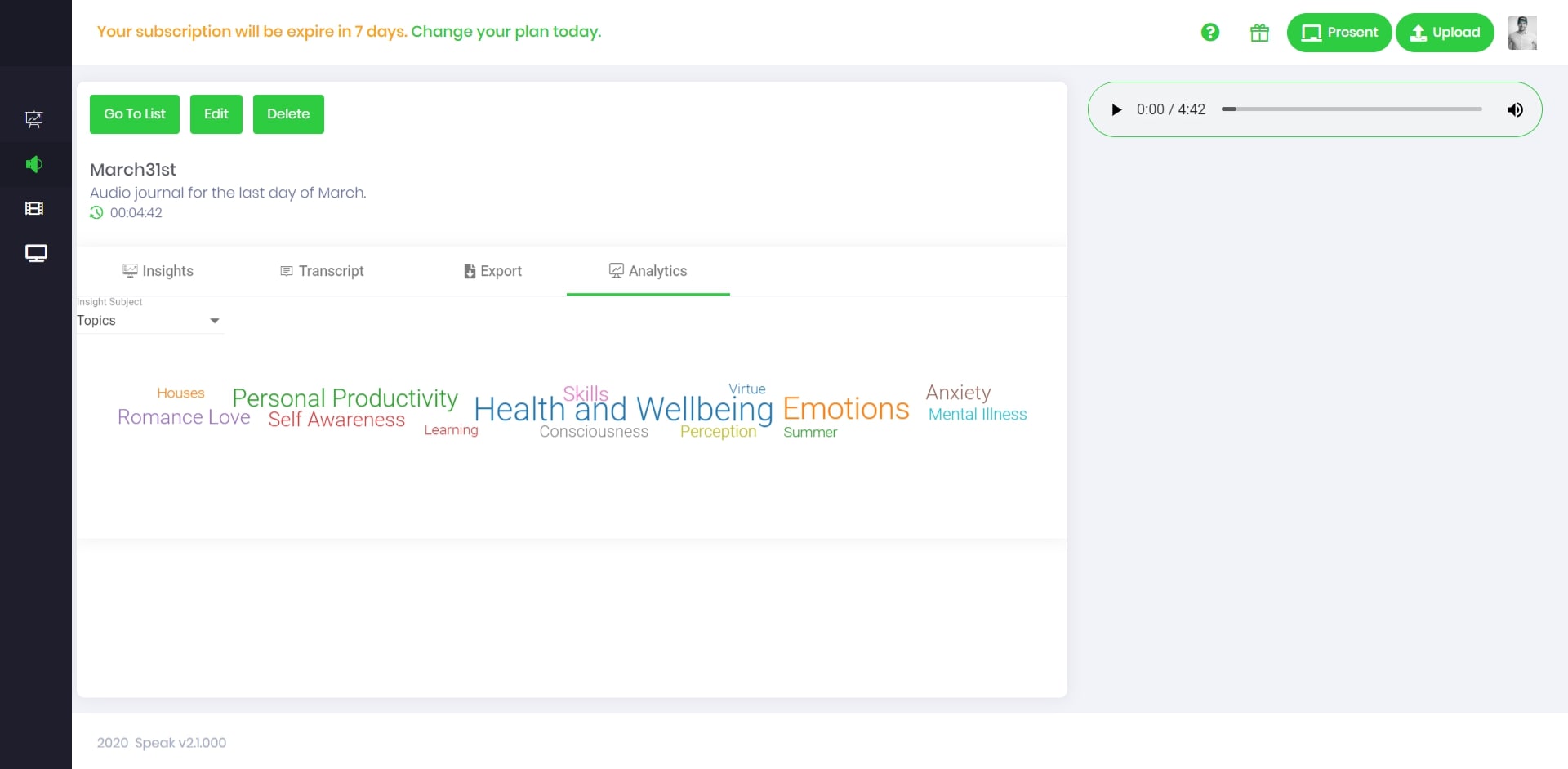 You can see a few screenshots of that in our dev environment. We now have the ability to identify insights and patterns in our notes based on different time periods, media types and more. We've added word clouds to start. There are some really interesting data visualizations coming soon.
Through audio and video journaling (with text on its way) we hope to enable people to get valuable insights into themselves. We hope to help increase our user's self-awareness. We want to help people make connections they might not be able to make with paper and pen or other platforms. Like journaling has done for me, we hope to help people optimize their moods and their life.
This pandemic has been difficult for so many of us. I'm working hard to stay optimistic. I believe the virus has brought clarity to a lot of people. For me, it's renewed my focus on developing what I believe is a valuable technology that can actually help people through challenging times.
If you are interested in human optimization, analytics, mental health and well-being, please feel encouraged to connect. We would love feedback, ideas, and support to see this vision come to life.
Connect
Give me a text or call at (647) 372-1565
Easily book a meeting with Calendly
Listen to my podcast:
Support my work
Join the Forest City Psychedelic Community